With each passing year, our work style became more digitalize. Most of our critical documents sent as an attachment on emails rather than hard copies. For an Outlook user, PST (Personal Storage Table) is the standard file for storing information such as messages or other Outlook items consisting of contacts, items, calendar, and so on. However, sometimes these PST files are not in good shape, resulting in messages like:
Outlook data files can't be open
Outlook can't open the set of folders
If you have received such messages about your Outlook PST file, calm your nerves. Your PST file not damaged, and it can be easily open. This tutorial is dedicate to all users experiencing trouble with "corrupted PST files." So, keep scrolling!
Additional Tips: How to find SCANPST location in MS Outlook
What could be the reasons for PST files being at risk of corruption?
We have to understand the reasons for this issue before jumping to the solution. Keeping this in mind, we will now investigate the basic following reasons for a corrupt PST file:
Poor condition of hardware device: If your hardware contains bad blocks, then your PST files cannot store, resulting in corruption.
Power outage: If a power failure happens at the time of saving a PST file, this leads to a damaged Outlook PST file.
Wrong application for file system recovery: if you attempted to recover corrupted files using recovery software, it is possible that system recovery application could corrupt the files, resulting in PST file corruption.
Malicious attack: We all know that some viruses enter the system and damage all the data including PST files. Therefore, you need to install effective anti-virus software on your device.
Unusual Outlook shutdown: You may find it hard to believe, but sometimes you think Outlook is shutting down and your PST file saved. However, the application is busy doing some other activity resulting in an unsaved PST file becomes corrupt for future use.
Exceeding the standard PST file size: We all want data for our work but sometimes we forget that a file has a certain limit of holding data in itself. If your PST file contains more than 2GB of data, it will naturally get damage.
The reasons for PST file corruption do not end here. However, these are the common ones. If you believe there are some other reasons for the Outlook PST file gets damage, you can fix it with Stellar Repair for Outlook.
Repair Corrupted or Damaged PST file with a Universal Solution
The file format developed by Outlook for storing information is PST files. This could be corrupt due to numerous reasons. The user can try Scanpst.exe to repair PST files, but this can only repair minor level corruptions of PST file.
However, you can easily restore PST file data with Stellar Repair for Outlook. Free download this software to read PST file information even after corruption. This Outlook PST repair tool can recover data from any size PST file and is compatible with all Outlook versions. Using this software, you will find recovering PST mailboxes such as emails, contacts, calendar, and other items, is a simple task.
Important Note: Stellar Repair for Outlook has topped the charts for consecutive years as the premier solution for PST file corruption. In addition, it is highly recommended by Microsoft admins and MVPs.
Restore a Corrupted PST file with the Following Steps:
Please Note: The time for restoring all PST files depends on your file size and number. So please be patient!
Step 1: Install Stellar Repair for Outlook on your system. After that click on Select Outlook data file option. A popup screen will appear that allows browsing or finding the PST file.
Step2: Click on Choose mailbox manually and browse the PST file if you already know the location of your PST file.
Step 3: Now the software will start repairing the PST file.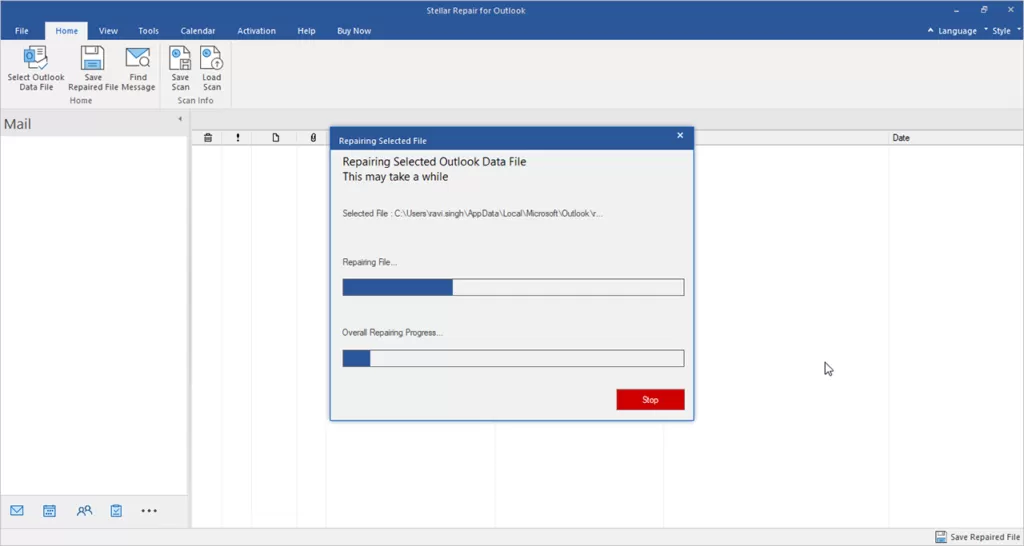 Step 4: After scanning being completed, the software previews the mailbox items in the left pane. The user can click on folders to preview the items.
Step5: The user can save the repaired PST file in desired file format.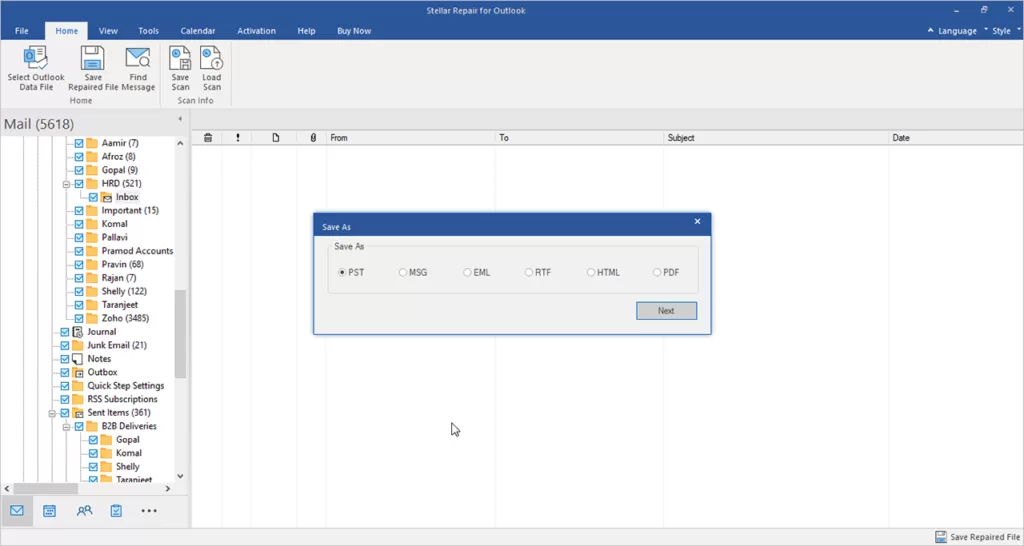 The Promising Features of Stellar PST Repair Software
Unmatched performance: Stellar Repair for Outlook's remarkable performance is one of the reasons why it is better than other software. Users can easily restore PST files and data without any glitches in the process.
User-friendly interface: The software comes with a clean & clear interface that helps you recover corrupted PST files easily. There are a few buttons and a clean interface for user convenience.
Restore every bit of data from a corrupted PST file: A fundamental goal of this software is to allow users to recover every piece of information from a corrupted PST file without destroying the originality of the file. The software can restore complete Outlook items.
List of options for saving restored PST mailbox data: If users wish to save the restored PST mailbox data in better file formats such as PDF, HTML, RTF, and more, the software provides the option for the same.
Complete preview of data: Users have the option of previewing corrupted PST files data before storing it in any other format. This way, they can select critical and not so significant data for the restoration process.
Various editions of software to satisfy user needs: This software comes in two editions: technicians and non-technicians. If all you need is to open and save data from the corrupted PST file, the non-technical edition is suitable. However, if you have technical requirements such as splitting PST files or saving exports to Outlook/O365 accounts, you should buy the technician edition of the software.
Concluding thoughts
Data damage or corruption is a common scenario in our everyday lives. However, knowing how to fix the problem can help us to avoid adverse situations. From the reasons for the corruption of the PST file to the best solution for it, everything explained here. We hope you will never look for another solution to restore a corrupted PST file after trying the mentioned one.
We are a team of technical content writers who produce high-quality, engaging content for our tech audience. We know the latest trends and what matters to our readers, and we share that information in a way that's easy to understand.