Well, you are landed at the right place if you are in search of smile design software. In this blog, we have discussed everything about smile design, the process, benefits, and of course the best smile design software available on market.
Growth of Digital Smile Designing
Digital Smile Design is one of the emerging technology in dental surgery. Digital dentistry is revolutionizing the dentistry world. New-age technologies like Artificial Intelligence and Machine Learning are helping dentists to design smiles in minutes. In this article, we will talk about a few such interesting smile design tools.
If you are looking for a list of software to design a cosmetic makeover or a full mouth of dental implants, then you are at the right place. In this blog, we have covered the Best Smile Design Software on the market. Before we start to review, first let us understand What is Digital Smile Design?
What is Digital Smile Design?
Digital Smile Design is a technique used to design and modify the smile of patients by using only images and videos and help them visualize it beforehand by creating and presenting a digital mockup of their new smile design before even their actual treatment starts.
Benefits of Digital Smile Design Software
Digital smile design offers numerous advantages by using only photos and videos for simulation. Here are some of the benefits of Digital Smile Design Software
Awesome Predictability
Motivation to Patients
No manual errors
Automation
Effective collaboration
Easy to Operate
How does Digital Smile Designing Work?
Digital Smile Design Software will help you achieve a perfect smile that suits your face and personality. Leveraging the digital smile design software, dentists can now improve design accuracy, boost communication with patients, and enhance predictability.
Digital Smile Design Tool uses photos, videos, and mock-ups along with the patient's dental and facial proportions to get details like gums, lips, and teeth to create a perfect smile. This article will explore the best software options available in the market that help you design natural smiles.
List of 5 Best Smile Design Software
Here we have discussed the 5 best smile design software to create new smiles.
One of the most widely used smile design software in the market is DTS PRO.
1. Dental Treatment Simulation (DTS PRO)
Dental Treatment Simulation is one of the simplest and quickest dental simulation software powered by Artificial Intelligence. DTS is a useful tool for everyday dentists to give their patients the smile they want to achieve. It is said that a picture is worth a thousand words and using the images the dentist can propose dental treatment.
Based on the patient's smiling requirements and features the practitioners can design a smile that can delight the patient. The tool allows the patients to plan their dental restoration even before the start of dental treatment. DTS replaces the use of traditional and time-consuming manual processes.
Key Features
Realistic Natural Simulations within minutes
Powered by Artificial Intelligence
Digital smile designs for the desired personality
Quick and easy dental restoration
Tooth Whitening
Extraoral changes after Orthodontics/Orthognathic surgeries
Different types of braces
Orthodontic Tooth Movement
Replacement of missing tooth/teeth
STL Overlapping
And all of this in a quick time using simple photos!
2. Planmeca Romexis® Digital Smile Design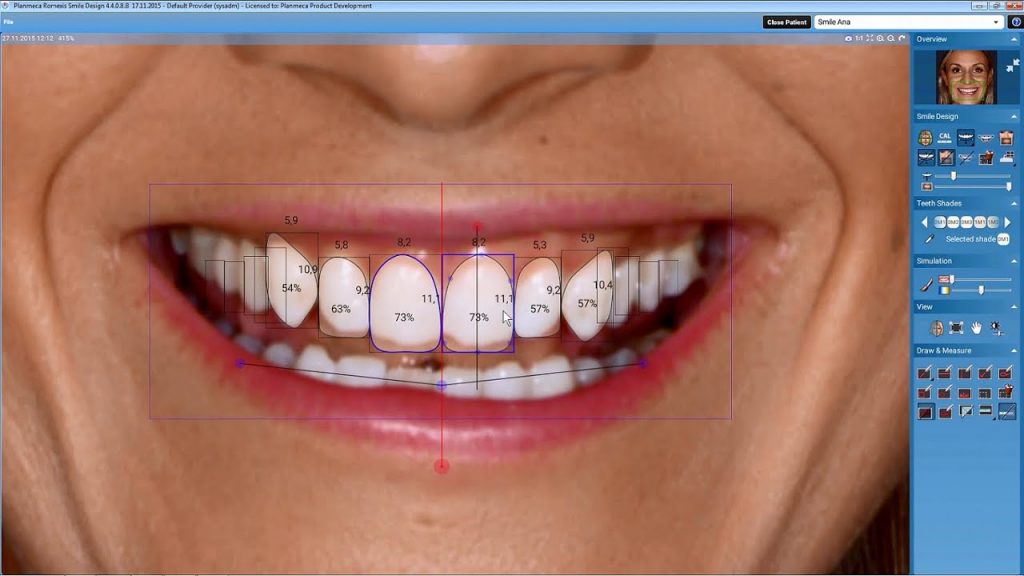 Planmeca Romexis® Smile Design can design a new smile in only 3 minutes for any patient. The software is ideal for smile simulation and dental restoration treatments. You can install it on both Windows and Mac, and it does not require any supporting software to function. Use this intuitive tool for quickly designing a perfect smile.
Key features:
Easy to install and use to design a new smile in minutes for a patient.
All necessary tools are in one software and it doesn't require any supporting software
Showcase the expected results and allow adjustment as per the patient's requirement
Allows patients to design their own smiles with many options
Easily export smile designs projects to any CAD/CAM software
Cloud transfer service for maintaining the digital smile database
Available for macOS and Windows operating systems
3. Smile Designer Pro
Smile Designer Pro is the ultimate tool for dental practitioners to design smiles for dental patients. By only using the images you can create the desired smile in a few minutes. The realistic simulation enables you to offer customized smiles and makes your patients excited about their smile transformation.
The software is developed using the digital smile methodology. The automation tool reduces around 90% of manual work, minimizing dental treatment time. Within 10 minutes the patient gets the desired smile based on their personality. You can improve patient satisfaction by providing them with the smile they deserve.
Key Features
Real-time smile simulation for effective dental restoration
Easy to use and provides quick smiling solutions
Full automation assistance for smile design projects
Personality driven plans with superior accuracy and efficiency
CAD/CAM overlay features
4. 3Shape Smile Design
3Shape Smile Design is one of the most exceptional smile design software available in the market. The tool is built based on Digital Smile Design principles. The smile design software helps the dental practitioner to create entirely esthetic smile designs based on the patient's critical requirements.
Using the 3Shape Smile Design software, you can work on a 2D image and draw the suggested restoration. Instead of using the older way of drawing and designing 3Shape allows you to create smiles directly from the patient's photo. The tool involves patient engagement from start to end which makes patients delighted with their dental restoration plan.
Key Features
A smarter and simple to use smile designing tool
Easy and completely guided workflow
Patient excitement as they are involved throughout the transformation journey
Provides a faster way to achieve desired outcomes in no time
5. Exocad Smile Creator
Earlier, getting a smile that suits your personality was a daunting task but with software like Exocad Smile Creator designing a digital smile became very easy and straightforward. The software involves the creation of personalized images based on the patient's identity and facial orientation.
The tool allows dental clinicians to design a smile based on the patient's emotions, behavior, self-esteem, and identity. The typical workflow involves the identification of patient's characteristics, design, and implementation.
Key Features
Predictable results for your restorative treatments
Massive library of numerous natural teeth
Seamless communication among dental labs, dentists, and patients
A 3D tooth set up for providing the personalized experiences
Fast and easy to use. No extensive knowledge or training is necessary
Creator generates realistic result previews based on patients' photos
Conclusion
Digital Smile Design is just not a philosophy or concept, but it is a reality that improves the appearance of a smile. With smile designing software, dental practitioners can help their patients to get better outcomes and dream of having a perfect smile. We've listed some of the renowned digital smile design software that can assist in designing your smile.
What will our pick among that 5 software?- We will definitely go with DTS Pro, as this is AI-powered and quickest among others.
We hope you found this article useful and informative. For more information please refer to the FAQ below.
---
FAQ on Digital Smile Design Software
What is Digital Smile Design?

Digital smile design is a technique for improving smiles. Digital smile design software helps in creating whiter and more beautiful smiles using esthetic dentistry.

What are the best tools to design a smile?

There are various tools available for creating the digital smile but one of the most used tools is Dental Treatment Simulation.

How does Digital Smile Design Software work?

The digital smile design software uses photos, videos, and mock-ups along with the patient's dental and facial proportions to get details like gums, lips, and teeth to create a perfect smile.

What is the price of digital smile design software?

What are the best Smile Design Softwares?

Here is the list of 5 best smile design software,
DTS Pro, 3shape, Exocade, Planmeca, and Smile Designer Pro

Does Smile Design hurt?

No, it's not, the process is very simple and doesn't hurt.

How is the smile design done?

The digital smile design software uses photos, videos, and mock-ups along with the patient's dental and facial proportions to get details like gums, lips, and teeth to create a perfect smile.