Blackfriday 2023 Deal
Ready to transform your dental practice with cutting-edge smile design technology? Take advantage of our exclusive Black Friday deal and unlock the full potential of DTS 3D at a 45% discount!
Use coupon code BF2023 to secure this limited-time offer and elevate your dental services to new heights. Don't miss out on this opportunity to revolutionize the way you approach smile designs and patient engagement. Upgrade to DTS 3D today and experience the future of digital dentistry firsthand!
DTS 3D at a 45% discount!
Smile Design Software is an innovative technology that is transforming the field of dental surgery. The world of dentistry is being revolutionized by digital dentistry, with advancements such as Artificial Intelligence and Machine Learning enabling dentists to create beautiful smiles in mere minutes. Within this article, we will explore several fascinating tools for smile design.
If you are looking for smile design software, you have come to the right place. In this blog, we provide comprehensive information about smile design, including the process, benefits, and the top smile design software available on the market. Whether you need software for a cosmetic makeover or dental implants, we have got you covered. Discover the best smile design software in this blog.
What is Digital Smile Design?
Smile Design Software utilizes images and videos to design and enhance patients' smiles, providing them with a digital preview of their new smile before commencing treatment.
Benefits of Digital Smile Design Software
Digital Smile Design (DSD) software has revolutionized the field of dentistry and transformed the way dental professionals plan and execute smile makeovers. This innovative technology allows dentists to create a customized treatment plan for each patient, ensuring optimal results. The benefits of using digital smile design software are numerous, ranging from improved communication between dentist and patient to enhanced predictability of treatment outcomes.
One major advantage of smile design software is its ability to provide patients with a visual representation of their future smiles. By using advanced imaging techniques, dentists can simulate different dental procedures and show patients how their teeth will look after the treatment. This not only helps patients have realistic expectations but also enables them to actively participate in the decision-making process regarding their own oral health.
Furthermore, digital smile design software facilitates better communication between dentists and laboratory technicians.
How does Digital Smile Designing Work?
With Smile Design Software, you can effortlessly attain a flawless smile that complements your unique facial features and character. By utilizing this innovative technology, dentists can enhance precision in their designs, foster better communication with patients, and increase the predictability of outcomes.
Smile Design Software revolutionizes the process of crafting flawless smiles by utilizing a range of resources such as photographs, videos, and mock-ups alongside comprehensive analysis of the patient's dental and facial proportions. This article aims to explore the finest software options available in today's market that enable users to design natural-looking smiles with utmost precision.
Smile Design Software Price: Exploring the Price Range for a Perfect Smile
When it comes to achieving that picture-perfect smile, advanced technology has revolutionized the dental industry. Smile design software is one such innovation that allows dentists to customize and visualize smile makeovers before they even touch a patient's teeth. However, as with any cutting-edge technology, the price range for smile design software varies widely depending on several factors.
Firstly, the complexity and features of the software significantly impact its price. Basic smile design software typically offers limited customization options and may only focus on tooth alignment or color correction. On the other hand, more advanced programs provide comprehensive tools for analyzing facial symmetry, gum contouring, virtual mockups, and even 3D printing capabilities. As you delve into these higher-end options with additional functionalities and greater precision, you can expect the price tag to rise accordingly.
5 Best Smile Design Software
Here we have discussed the 5 best smile design software to create new smiles.
One of the most widely used smile design software in the market is DTS PRO.
1. Dental Treatment Simulation (DTS PRO)
Dental Treatment Simulation is one of the simplest and quickest dental simulation software powered by Artificial Intelligence. DTS is a useful tool for everyday dentists to give their patients the smile they want to achieve. It is said that a picture is worth a thousand words and using the images the dentist can propose dental treatment.
Based on the patient's smiling requirements and features the practitioners can design a smile that can delight the patient. The tool allows the patients to plan their dental restoration even before the start of dental treatment. DTS replaces the use of traditional and time-consuming manual processes.
Key Features
Realistic Natural Simulations within minutes
Powered by Artificial Intelligence
Digital smile designs for the desired personality
Quick and easy dental restoration
Tooth Whitening
Extraoral changes after Orthodontics/Orthognathic surgeries
Different types of braces
Orthodontic Tooth Movement
Replacement of missing tooth/teeth
STL Overlapping
And all of this in a quick time using simple photos!
Dental-design-smile reviews- DTS PRO REVIEW
I recently tried out the DTSPRO Smile Design Software and I must say, it completely exceeded my expectations. The software is incredibly user-friendly, making it easy for even someone like me with limited technical skills to navigate through. The level of customization and detail that can be achieved with this software is astounding. From shaping the teeth to adjusting the color and texture, every aspect can be tailored to perfection. The final result? A beautiful virtual representation of the patient's new smile! I highly recommend this software to any dental professional looking to enhance their smile design capabilities.
2. Planmeca Romexis® Digital Smile Design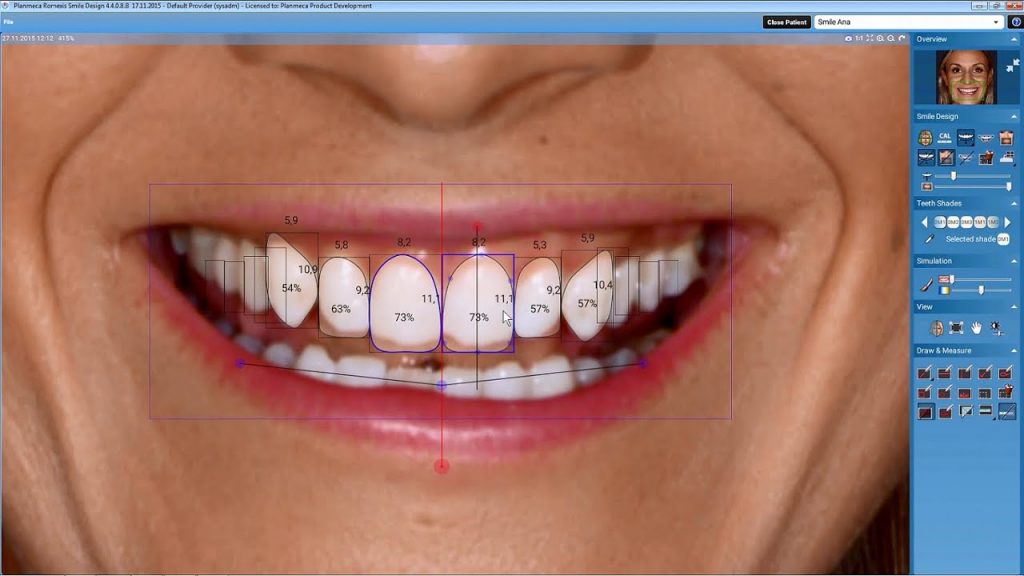 Planmeca Romexis® Smile Design can design a new smile in only 3 minutes for any patient. The software is ideal for smile simulation and dental restoration treatments. You can install it on both Windows and Mac, and it does not require any supporting software to function. Use this intuitive tool to quickly design a perfect smile.
Key features:
Easy to install and use to design a new smile in minutes for a patient.
All necessary tools are in one software and it doesn't require any supporting software
Showcase the expected results and allow adjustment as per the patient's requirement
Allows patients to design their smiles with many options
Easily export smile designs projects to any CAD/CAM software
Cloud transfer service for maintaining the digital smile database
Available for macOS and Windows operating systems
3. Smile Designer Pro
Smile Designer Pro is the ultimate tool for dental practitioners to design smiles for dental patients. By only using the images you can create the desired smile in a few minutes. The realistic simulation enables you to offer customized smiles and makes your patients excited about their smile transformation.
The software is developed using the digital smile methodology. The automation tool reduces around 90% of manual work, minimizing dental treatment time. Within 10 minutes the patient gets the desired smile based on their personality. You can improve patient satisfaction by providing them with the smile they deserve.
Key Features
Real-time smile simulation for effective dental restoration
Easy to use and provides quick smiling solutions
Full automation assistance for smile design projects
Personality-driven plans with superior accuracy and efficiency
CAD/CAM overlay features
4. 3Shape Smile Design
3Shape Smile Design is one of the most exceptional smile design software available in the market. The tool is built based on Digital Smile Design principles. The smile design software helps the dental practitioner to create entirely esthetic smile designs based on the patient's critical requirements.
Using the 3Shape Smile Design software, you can work on a 2D image and draw the suggested restoration. Instead of using the older way of drawing and designing 3Shape allows you to create smiles directly from the patient's photo. The tool involves patient engagement from start to end which makes patients delighted with their dental restoration plan.
Key Features
A smarter and simpler-to-use smile-designing tool
Easy and completely guided workflow
Patients excitement as they are involved throughout the transformation journey
Provides a faster way to achieve desired outcomes in no time
5. Exocad Smile Creator
Earlier, getting a smile that suits your personality was a daunting task but with software like Exocad Smile Creator designing a digital smile became straightforward. The software involves the creation of personalized images based on the patient's identity and facial orientation.
The tool allows dental clinicians to design a smile based on the patient's emotions, behavior, self-esteem, and identity. The typical workflow involves the identification of the patient's characteristics, design, and implementation.
Key Features
Predictable results for your restorative treatments
Massive library of numerous natural teeth
Seamless communication among dental labs, dentists, and patients
A 3D tooth set up for providing personalized experiences
Fast and easy to use. No extensive knowledge or training is necessary
The creator generates realistic result previews based on patients' photos
Conclusion
The realm of Smile Design Software transcends theoretical notions and conceptual frameworks; it manifests as an actuality that has the power to elevate the visual allure of an individual's smile. Through the utilization of cutting-edge software specifically tailored for this purpose, dental practitioners can guide their patients toward improved outcomes and enable them to envision the realization of their perfect smiles. Within our curated list featuring renowned digital smile design software offerings, we unequivocally endorse DTS Pro as our preferred selection among the five alternatives available, given its integration of artificial intelligence capabilities and unmatched efficiency.
We hope you found this article useful and informative. For more information please refer to the FAQ below.
---
FAQ on Digital Smile Design Software
What is Digital Smile Design?

Digital smile design is a technique for improving smiles. Digital smile design software helps in creating whiter and more beautiful smiles using esthetic dentistry.

What are the best tools to design a smile?

There are various tools available for creating the digital smile but one of the most used tools is Dental Treatment Simulation.

How does Digital Smile Design Software work?

The digital smile design software uses photos, videos, and mock-ups along with the patient's dental and facial proportions to get details like gums, lips, and teeth to create a perfect smile.

What is the price of digital smile design software?

What are the best Smile Design Softwares?

Here is the list of 5 best smile design software,
DTS Pro, 3shape, Exocade, Planmeca, and Smile Designer Pro

Does Smile Design hurt?

No, it's not, the process is very simple and doesn't hurt.

How is the smile design done?

The digital smile design software uses photos, videos, and mock-ups along with the patient's dental and facial proportions to get details like gums, lips, and teeth to create a perfect smile.
We are a team of technical content writers who produce high-quality, engaging content for our tech audience. We know the latest trends and what matters to our readers, and we share that information in a way that's easy to understand.