MS Outlook is a popular email client and the first choice of many users. However, people make the transition to Mozilla Thunderbird more often than not. Among the various reasons behind this shift is the fact the Thunderbird is an open-source email client. Owing to this reason, it provides free email service and all its versions are free to install on your system. Along with this, extensions are also made available for Task list and Calendar activities.
Read- Why companies must use Cloud Computing?
Mozilla Thunderbird can be accessed on Windows, Mac, and Linux Operating Systems. Also, because Outlook is a paid service and Thunderbird provides more advanced facilities free of cost, the migration of users is quite prominent. Additionally, Mozilla Thunderbird avails a facility to connect with users on social networking sites such as Facebook, Twitter, etc.
How to Import Outlook Contacts to Thunderbird?
In this section, we will provide you different ways in which you can make this transition possible.
User Query
"My colleague shared Outlook contacts of our clients' with me. When he sent them to me, the PST contact file got corrupted. I am a Thunderbird user but cannot access those contacts even after trying many ways. How can I import and access them into my email client?"
To access those .pst contacts in Mozilla Thunderbird, the only possible and practical way is to convert them into a vCard file. A VCF (vCard) file is a standard virtual business card that can be shared over various platforms. But to convert a PST file to VCF is not manually possible. Therefore, to export Outlook to vCard you need to install a third-party tool.
Steps to Import Outlook Contacts to Thunderbird
1. Download and install PCVITA Outlook to vCard converter software.
2. Add Files & Folder in the software. It provides an option to auto-detect the location of the files and adds them to the tool automatically.
3. After this, the application will scan the PST contact file for any form of corruption.
4. Now, the files have been successfully added, users can preview all contact details and attributes. Select the contacts to export.
5. At last, choose vCard format, provide destination location, and hit the Export button.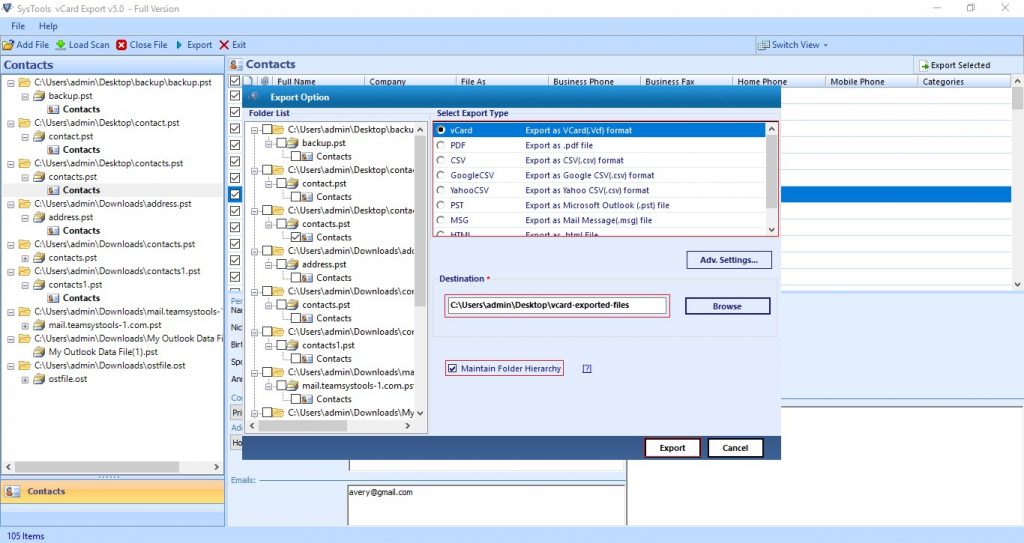 You have created a vCard file from the Outlook PST contacts. Now, the next step would be to move them to Thunderbird's address book.
6. Launch Thunderbird, click on Address Book.
7. Click on Tools from the top menu>> Import.
8. Now, select Address Book and choose Next.
9. After this, select "vCard file (.vcf)">> Next.
10. Select the VCF files from your system & import them.
Features of the Tool:
1. Supports corrupted, orphaned, password-protected PST files.
2. The tool allows exporting deleted contacts as well.
3. Provides eight more formats in addition to the vCard file.
4. The resultant file is with multiple platforms and devices.
5. Does not require Outlook installation on the user's system.
Manual Method:
You can perform the same task manually as well. However, there are a few limitations associated with it. You are bound to install Outlook on your computer. Also, if you have a former orphaned or corrupt PST file, you cannot adapt to the manual method. Follow the below-given steps to import Outlook Contacts to Thunderbird.
1. Launch Outlook application & click on File
2. Select Open & Export>> Import/Export
3. Choose Export to a File and hit the Next button
4. Now, click on Comma Separated Value>> Next
5. Choose the contacts folder & provide a location to save
6. If prompted, map the custom fields
You have created a CSV file. To import Outlook contacts to Thunderbird, follow steps 6 to 10 of the above method.
Conclusion:
In this blog, we explained two different methods using which you can achieve perfect results. Users can go for any of the above-mentioned methods. With highly advanced features, the tool that we mentioned here to import Outlook contacts to Thunderbird is a trustworthy application. Outlook versions 2019, 2016, 2013, 2010, and other versions are all compatible with this software.
You May Also Like
References:www.tech-wonders.com
We are a team of technical content writers who produce high-quality, engaging content for our tech audience. We know the latest trends and what matters to our readers, and we share that information in a way that's easy to understand.