There are a lot of different video editors out there, and it can be tough to decide which one is right for you. In this blog post, we will discuss the 6 best video editors. These tools are all great options for creating high-quality videos for your gaming YouTube channel. We'll go over the pros and cons of each editor, so you can decide which one is right for you.
Movavi Video Editor
Movavi Video Editor is video editing software for gamers that makes creating and sharing content simple and convenient. Within the multitrack timeline you can work with audio, video, images, and titles, as well as add transitions and filters. It also has all the extra functions needed to make an eye-catching professional-looking video clip, such as scene detection to split large files into smaller ones or background removal for creating stunning montages. With Movavi, you can tweak the audio too – normalize sound, experiment with equalizer setting, remove background noise, and synchronize audio streams from multiple devices.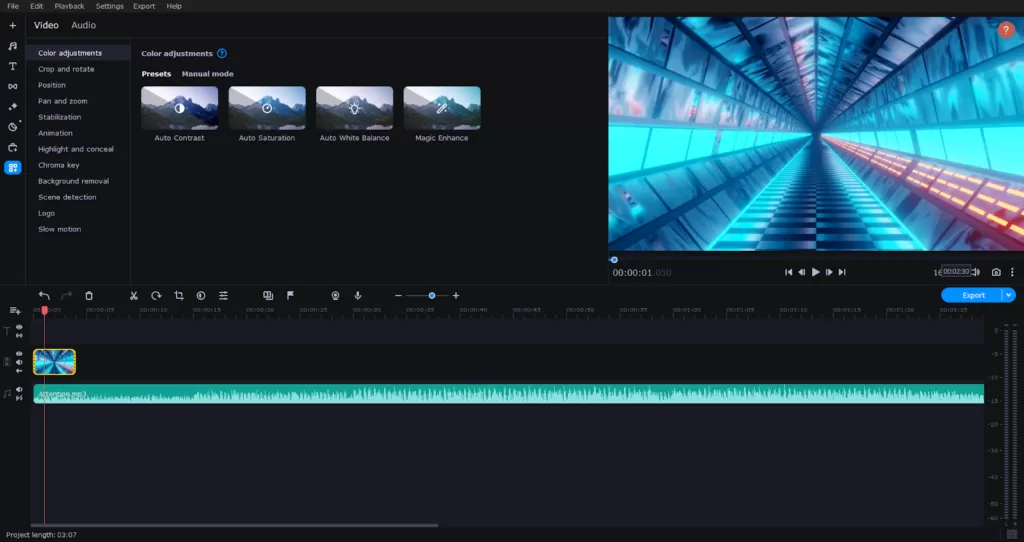 Movavi Video Editor supports files in 4K and provides an optimized rendering process. It also works with various multimedia formats – both input, and output. Exporting options include direct uploading to YouTube, Vimeo, Google Drive, and TikTok.
Pricing:
$54.95 for a one-year subscription
$74.95 for a lifetime license
Pros
Simple controls are perfect for beginners
Lookup tables (LUTs) ensure one-click color correction
AI-based features like background removal and noise reduction make the editing process faster
Cons
Doesn't offer a wide range of audio effects
Title editing has limited functionality
VSDC
VSDC is a montage maker of choice for those starting out with YouTube videos. With customizable transitions, tracking, and masking abilities, you can make your videos stand out in a bigger way. VSDC also supports 4K resolutions for your videos, as well as various 3D diagram instruments, so you can take your game footage to the next level. Additionally, VSDC's timeline-viewer allows you to accurately adjust timing and ranges of individual elements while editing – so you can create unique sequences with precision and clarity in just a few clicks.
Finally, this program includes integrated sharing capabilities that make it easy to upload your videos right onto popular social media platforms like Facebook, Twitter, Instagram, and YouTube itself.
Pricing:
Free mode
$19.99 for an annual subscription
Pros
Diagram and chart editing tools are great for presenting data
Shaped masks can be used to highlight, blur, or hide parts of the video
Cons
Advanced features are hidden behind an annual subscription
The interface has a learning curve
AVS Video Editor
AVS Video Editor should also the tool be considered for any video editing project. All of its video editing features are designed to make post-production much easier and more efficient. It provides a wide range of video editing options, such as advanced trimming and cutting, color correction, stabilization, adding transitions and sound effects, changing video format, DVD authoring tools, and more. Furthermore, its library of special effects includes numerous templates to help you create unique looking clips in no time at all. You can also use the screen-recording feature to spruce up your video footage.
AVS Video Editor is compatible with a range of popular video formats, and has several exporting options. These include posting on YouTube, Facebook, Vimeo, and other video hosting services, as well as uploading your final project to cloud storage.
Pricing: $149 for an annual subscription
Pros
A variety of video effects
Compatibility with 4K videos
Integrated uploads to YouTube and other popular video hosting platforms
Cons
There is no version for macOS
The interface can take some time to get used to
OpenShot Video Editor
OpenShot Video Editor is a great option if you're looking to edit gaming videos quickly and easily. It features an intuitive user interface that allows YouTube beginners to create videos like a pro and advanced options for experienced users. Its powerful animation tools and keyframe-based design make creating complex animations simple, while its media library intuitive timeline make finding assets fast and easy. Not only does it support 3D title editing, but it also comes with a whole audio mixing kit that will help you with polishing the soundtrack.
OpenShot Video Editor is really versatile when it comes to compatibility. It works on Mac, Windows, and Linux, plus, supports all multimedia formats. Another great thing about the program is that it's open-source, and you can add in any plugging made by the community members.
Pricing: free
Pros
Cross-platform video editing software
Can be customized with third-party plugins
Cons
No direct export to YouTube
VideoPad
VideoPad is a free YouTube video editor. It allows users to easily create videos with drag and drop functionality and powerful video editing tools. Its user-friendly interface makes it easy to trim, combine, and add elements to any creation, making it a great choice for creating game-related content. VideoPad also has a set of built-in effects and transitions that can be added with just a click of a button. To make things even easier, there are tons of ready-made templates for any kind of project you may have in mind.
VideoPad is a part of a mix-and-match software solution, meaning you can incorporate other NCH tools in your workflow. For example, you can create a soundtrack in MixPad or save your project on a disc via Express Burn if you have these programs installed. VideoPad works with all available video formats and lets you share videos directly to YouTube, Google Drive or other cloud storage options.
Pricing:
$129 for Master's Edition
$70 for Home Edition
$11.64 for Master's Edition Quarterly Plan
Pros
Support for 360-degree videos
No elaborate video editing skills are required
Available for Windows, macOS, and iOS
Cons
Advanced features are hidden behind a fee
MAGIX Video Pro X
MAGIX Video Pro X is a professional video editor specifically designed with creative gamers in mind. It offers an extensive range of features that allow users to create high-quality videos quickly and easily. This program offers 4K and 360-degree video editing, as well as professional audio design, non-destructive image editing, and a variety of visual effects. Additionally, its timeline editor allows you to quickly and accurately make cuts, transitions, and other edits.
MAGIX Video Pro X also offers a variety of exporting options that make it easy to share your project on popular social media platforms like YouTube, Vimeo, Facebook, and Instagram.
Pricing:
$299 for a perpetual license
$9.99 for a monthly subscription
Pros
Excellent video enhancing tools
Professional audio kit
Cons
May seem too complicated for YouTube beginners
A bit on a pricey side, compared to other software
Conclusion
The right software is essential for editing gameplay videos. Selecting the best video editing software for your needs doesn't have to be difficult if you know what factors to consider beforehand. Consider your budget, how user-friendly the program is, and whether it comes with helpful support resources before deciding on which one is right for you. With these tips in mind, and our selection of the best video editors, finding the perfect video editing solution will be easier than ever.