These days, the use of AI voiceover generators is becoming increasingly popular in various types of media. From video game developers to indie filmmakers, many are turning to automated solutions for their voiceover needs due to their affordability and convenience. In this article, we'll be looking at Ten of the best free AI voiceover generators available on the market today. We'll discuss the features each one offers and how they can help you create professional-quality audio for your project.
Free AI Voiceover Generators
One of the most innovative advancements in technology is Artificial Intelligence (AI), which has revolutionized many industries. One such industry that has been impacted by AI is voiceovers. Many online platforms now offer free AI voiceover generators, allowing content creators to add professional-sounding voiceovers to their videos and audio recordings without breaking the bank. Here are the 10 best free AI voiceover generators available today!
1) Speechify
Speechify is an AI voiceover generator that can help you convert your text to speech in a matter of minutes. This tool uses natural-sounding voices to make your content sound more professional and engaging. With Speechify, you don't need to record your own voice or hire a professional voice actor to create high-quality audio content.
Speechify also allows you to adjust the speed and tone of the voiceover according to your preferences. You can choose from different accents and languages, making it ideal for creating multilingual content or targeting audiences from different regions around the world. Another advantage of using Speechify is that it saves time and effort since it automates the process of creating voiceovers for videos, podcasts, audiobooks, and other digital content.
Whether you're a blogger, marketer, educator or just someone who needs high-quality voiceovers for personal projects, this platform has got you covered with its impressive features and easy-to-use interface.
2) FreeTTS 
FreeTTS is a web-based AI voice generator that converts any written text into speech. It supports multiple languages and voice styles to help you create a unique and personalized voice for your business. It can read text content out without downloading any other software. The materials that can be read out include email, PDF, document, web page, news, blog articles, e-books, etc.
FreeTTS has a simple interface and user-friendly UI that makes it easy to use for everyone. Using this tool to generate amazing voices is straightforward. First, copy and paste the text content to its workspace. Then, select the desired language and voices from the drop-down menu. Third, click "Convert to MP3" and let Freetts do its work. Finally, you will see the audio file is ready, and you can play it online. Click "Download to MP3" to save the mp3 file to your device if satisfied.
More than just a TTS converter, Freetts can be a valuable AI assistant to boost your productivity. Students can use it to enhance their learning experience. Teachers can use it to read stories to children. And people with low vision can access information easily with it.
3) ReadTheWords
If you're looking for a free AI voiceover generator, ReadTheWords is one of the best options out there. This platform boasts an intuitive interface that allows users to easily convert their text-based content into audio narrations. Whether it's articles, blog posts or any other type of written content, ReadTheWords can transform it into a multi-voice audio file in just minutes.
One of the standout features of ReadTheWords is its ability to generate natural-sounding voices that are easy on the ears. The AI-powered technology ensures that each narration sounds like a real person and not a lifeless robot reading from a script. Moreover, ReadTheWords supports multiple languages, which means you can create voiceovers in different languages tailored to your target audience.
4) Voicebooking
Voicebooking is a great platform that provides professional voiceovers for various projects. It has a vast collection of voices from all over the world, making it easy to find the perfect voice for any project. The process is straightforward and user-friendly, allowing anyone to hire a voice actor with ease. Voicebooking offers competitive pricing, making it affordable for businesses of all sizes.
One of the best things about Voicebooking is their attention to detail. They offer customized services according to your needs, ensuring that your project's message resonates with your audience effectively. You can choose from different languages, accents, and tones to fit your brand's personality perfectly. The turnaround time is quick too; you can have your audio files delivered within 24 hours.
5) iSpeech FreeTTS
iSpeech FreeTTS is a text-to-speech tool that leverages AI and machine learning to produce lifelike voiceovers for any type of content. With this free AI voiceover generator, you can easily convert your written words into natural-sounding audio in seconds. iSpeech FreeTTS supports multiple languages and voices, so you can choose the one that best suits your needs.
One great feature of iSpeech FreeTTS is its ability to add emotion and emphasis to specific parts of your text. You can customize the tone, pitch, and speed of the voiceover to match the mood or style of your content. This makes it perfect for creating engaging video tutorials, audiobooks, or podcasts.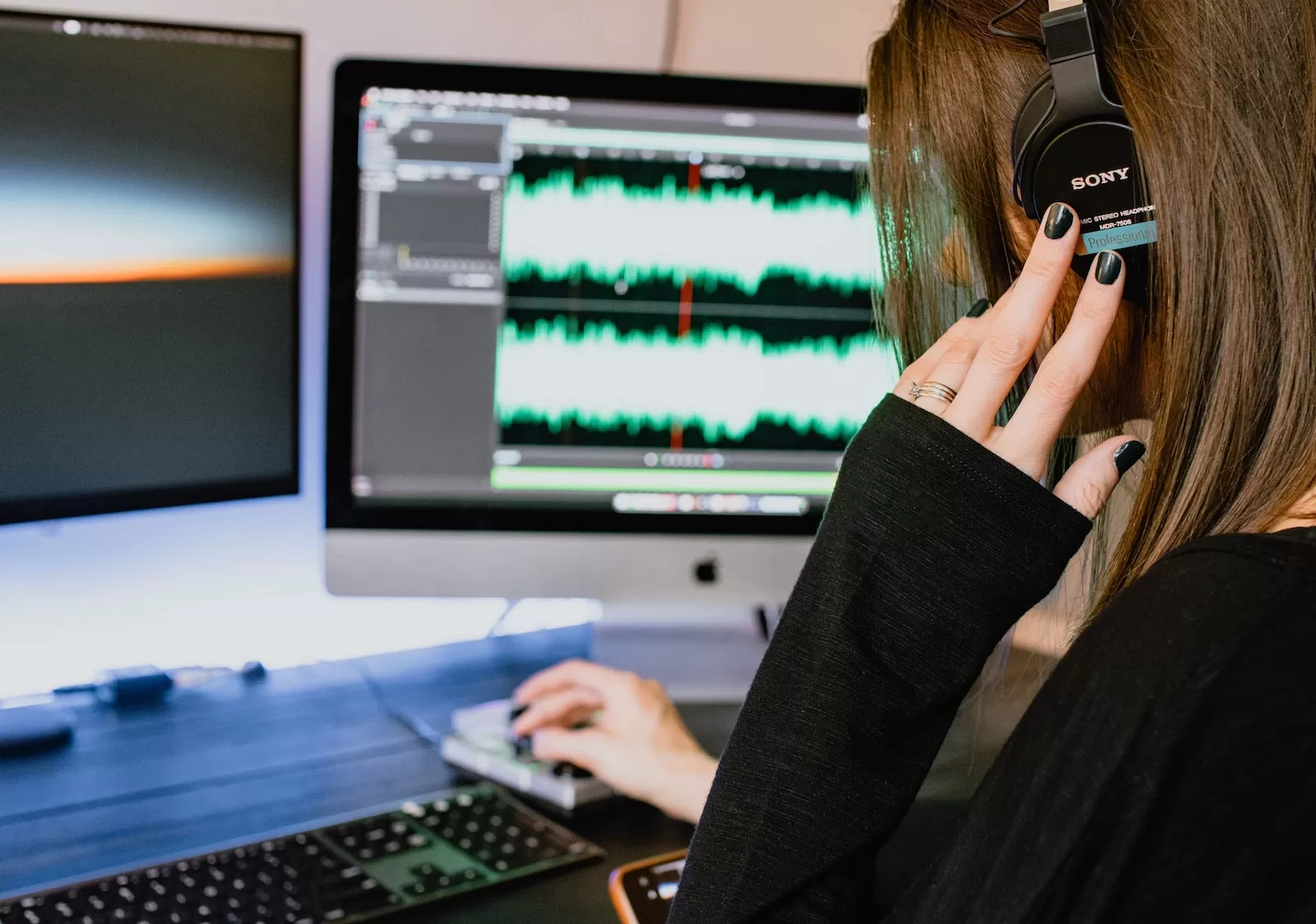 6) Tingwo Web Voice
Tingwo Web Voice is another AI-powered voiceover generator that is making waves in the market. It uses deep learning algorithms to produce natural-sounding voices and can be used for various applications, including e-learning, advertising, and video narration. Tingwo Web Voice offers a wide range of languages, accents, and tones to choose from, making it an excellent tool for businesses that cater to global audiences.
One of the best things about Tingwo Web Voice is its straightforward interface. Users can quickly upload their scripts or input text directly into the platform, select their preferred language and voice type, adjust the speed and volume settings then click generate to get their voiceover files ready in minutes. Tingwo Web Voice also allows users to download their audio files in various formats such as MP3 or WAV.
7) SpokenData
SpokenData is an innovative text-to-speech AI tool that can convert any written content into a natural-sounding voiceover. With SpokenData, users can create high-quality audio content for podcasts, videos, and other multimedia projects in a matter of minutes. The software also offers multiple languages and voices to choose from, allowing users to customize their voiceovers according to their audience's preferences.
One of the key advantages of SpokenData is its accuracy and clarity when it comes to voiceovers. The software uses advanced algorithms that analyze the text input and produce a human-like speech pattern with proper intonation and emphasis on important words. Additionally, SpokenData has a user-friendly interface that makes it easy for even non-experts to use.
8) Veed.io
Veed.io is a free online video editing tool that uses AI technology to help users create high-quality videos with voiceovers. With its easy-to-use interface and intuitive drag-and-drop features, Veed.io allows users to add text, images, and audio tracks to their videos in just a few clicks. What's more, Veed.io also offers an AI-based voiceover feature that lets users choose from a wide range of voices and accents for their videos.
One of the best things about Veed.io is its ability to generate realistic-sounding voiceovers using artificial intelligence. Users can simply upload their script or text, select the language and accent they want, and let the AI do the rest. The result is a professional-quality voiceover that matches the tone and style of the video perfectly.
Another great feature of Veed.io is its ability to add subtitles automatically using AI technology. This means that users don't have to spend hours transcribing their videos manually; instead, they can let Veed.io do it for them in just a few minutes.
9) Balabolka
Balabolka is a free text-to-speech software that offers a wide range of features for generating high-quality voiceovers. With Balabolka, users can convert any written text into an audio file with the help of multiple voice options and customizable parameters like speed, pitch, and volume. The software supports various file formats like MP3, WAV, OGG, and WMA.
One unique feature of Balabolka is the ability to save the reading progress automatically. This means that if you have to pause your work or shut down your computer before finishing a lengthy document conversion project, you can resume the process from where you left off. Additionally, Balabolka allows users to preview their audio files before finalizing them.
10) Lyrebird
Lyrebird is a game-changing AI voiceover generator that has earned its place on our list of the 10 best free AI voiceover generators. This innovative tool uses deep learning algorithms to mimic human speech with incredible accuracy and realism. With Lyrebird, users can create high-quality synthetic voices in just minutes, without any prior experience or training.
One of the key features that sets Lyrebird apart from other AI voiceover generators is its ability to capture and replicate the unique nuances of individual speakers. This means that users can create custom voices for their projects that sound like real people, rather than generic computer-generated voices. Additionally, Lyrebird offers a range of customization options such as tone, pitch, and speed so that users can fine-tune their voiceovers to suit their needs.
Conclusion
In conclusion, choosing the right AI voiceover generator tool is crucial if you want to produce high-quality audio content for your brand. With so many free options available online, it can be overwhelming to choose just one. However, it's important to consider factors such as ease of use, customization options, and overall sound quality.
One tool that stands out among the rest is iSpeech FreeTTS. This advanced neural network technology produces more natural-sounding voices that are almost indistinguishable from human speech. Additionally, iSpeech FreeTTS offers a variety of languages and accents to choose from.