If you have a growing email list but lower open rates then you must recheck the emails with the email validation checker or tools. We have listed the 5 best email validation tools in this blog, it will help you skyrocket your email marketing efforts.
What is email validation?
Email validation is the process of making sure an email address is valid and exists. There are a few different ways to validate an email address, but the most common is to use an email validation service.
An email validation service will take an email address and check it against a list of known valid email addresses. If the email address is not on the list, the service will return an error.
Email validation is important because it helps ensure that an email address is real and can be used to communicate with someone. It also helps prevent spam messages from being sent to invalid email addresses.
Here are the 5 best email validation checkers or tolls you can use to remove non-working emails from your email lists.
5 best email validation tools
1. EmailListVerify
EmailListVerify is a well-known email validation tool that is utilized by some of the most well-known companies in the world, such as MailChimp, Shopify, and Rackspace. During their time in business, they've scanned over 5 billion email addresses.
EmailListVerify runs a number of checks to identify and remove incorrect email addresses from your mailing list. Emails associated with invalid, inactive, or parked accounts, as well as temporary and duplicate emails, are deleted.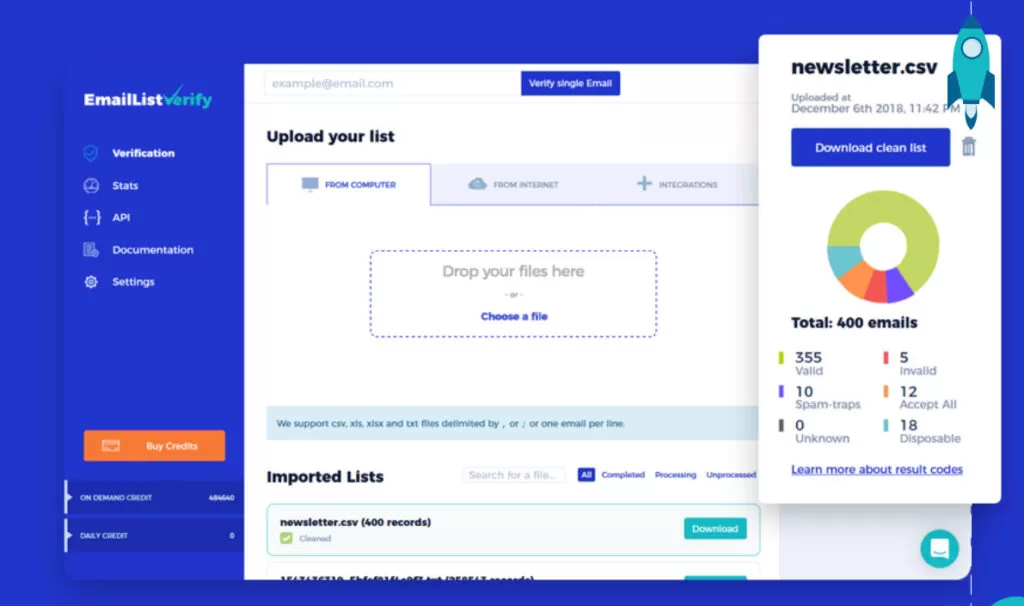 2. Email Checker
Another popular email verification tool is Email Checker. Seagate, Box, and EE are among the service's clients. To date, they've handled over 19 billion emails and averted over 1.3 billion bounces.
Email addresses with incorrect domains and syntax mistakes are removed during the tool's verification procedure. Temporary emails are also deleted, and mistakes and errors are fixed.
3. Clearout
Clearout can detect spam emails in a variety of methods. Duplicate emails, dots in emails, temporary emails, and sub accounts are all removed. Spam traps, emails with hard bounces, and emails from blacklisted domains are also identified and removed.
4. MailerCheck
MailerCheck is an excellent email validation software from the same firm that created MailerLite, one of the most widely used email marketing solutions.
MailerLite happens to have some of the industry's best email delivery rates. They have 1.1 million customers as well.
Inactive mailboxes, typos, throwaway email boxes, syntax problems, and other issues are all checked by their platform.
5. Hunter
Hunter is an email outreach tool that includes an email verifier to help you clear up your inbox. Your outreach campaign's delivery rate will improve as a result of this.
Its main purpose is to help you find email addresses for company leads via domain searches, first/last name searches, and email address searches. Invalid emails, transitory emails, banned emails, and emails with hard bounces are all detected by the email verification programme.
Conclusion
We hope you enjoyed reading this blog and it will help you choose the right email validation tool for your business.
« I confirm the subscription of this blog to the Paperblog service under the username techistech »