The idea of digital transformation has made its way to almost every industry. But if it is one industry that has witnessed extensive metamorphosis with consistent evolution of technology, it is none other than the retail sector. Thanks to the extraordinary moderations made through predictive analytics and AI technology that has aided the data-driven approach in the retail industry.
And therefore, 2022 and the upcoming years are all likely to showcase a growing dependency of retail operations on Artificial Intelligence. According to a recent report by Statista, "over the next eight-year period, the market for AI in retail is estimated to grow exponentially, reaching 23.32 billion U.S. dollars by 2027." In short, Digitalization in retail has gone way farther than just linked objects and AI has a huge role to play in catalyzing the digitally transformed side of the retail industry.  
More importantly, Artificial Intelligence has made way for high-level data to flow into operations empowering the existing and substantial business opportunities for retail giants. It means the AI revolution in the retail sector has all the potential to fetch the additional revenue that the retail sector expects to capture.
Even when it was mid of pandemic, "90 percent of retail business leaders indicated that their employees are prepared and have the skills for AI adoption, up 47 percentage points from the inaugural KPMG study published in early 2020. 53 percent of business leaders in retail said COVID-19 increased their company's pace of adoption." Therefore, it can be predicted well in advance that AI in Retail is going to play a huge role in transforming the retail industry entirely from internal operations to the end-user shopping experience.
In this blog, we will try to dig into every detail surrounding AI in Retail. Whether it is understanding the AI-based solutions, taking insights on how AI has/can transform the shopping experience, and of course determining the need for AI in the retail sector.
Let's begin! 
Picturizing What AI Solutions Look In Retail
AI is a term that aligns well with almost every industry and business environment. And when it comes to understanding AI solutions making their way into the retail industry, it usually revolves around machine learning and predictive analytics. These solutions help retailers in analyzing, collecting, and processing the troves of information to retaliate against negative outcomes and thrive in positive decision-making.
The best thing about using AI in retail is the need to bring autonomy to the operations by converting raw data from sources like IoT and converting the same to actionable details. Also, AI in retail has been constantly used to foster behavioral analytics as well as feed on market demographics in order to improvise business projections.
AI To Transform Shopping Experience: The Innovation In Detail
The present retail industry landscape is all about data-driven retail where retailers and business analysts always aim to enhance the user experience to meet the ever-growing customer expectations. And the thought of taking the personalized shopping experience for the users is also very relevant when the retailers are aiming to establish themselves as market leaders.
On a serious note, retailers these days have made the best out of AI when it comes to translating innovation in retail business and reshaping the shopping experience.
1. Inventory Management
AI in retail is creating better demand forecasting. By mining insights from the marketplace, consumer, and competitor data, business intelligence tools forecast industry shifts and empower managers to adjust a company's marketing, merchandising, and business strategies. This also impacts supply chain planning, pricing, and promotional planning.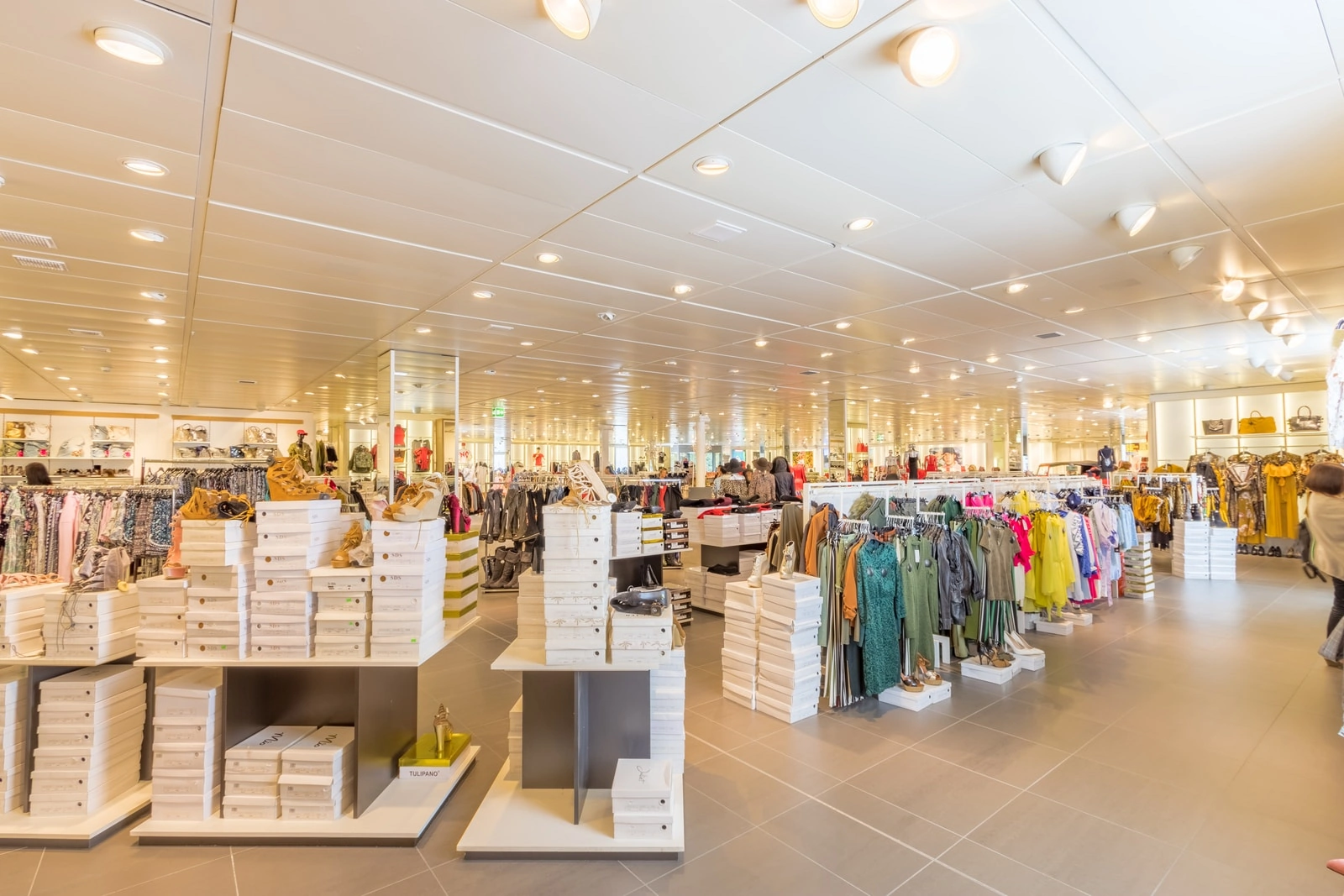 2. Adaptive Digital Portals
Since retailers these days are entirely focused on creating a pleasing e-retail experience for their customers, AI technology comes to the rescue for all digital shopping portals with adaptiveness. This modern PoS reflect upon current user queries, past purchases, and the overall shopping behavior of the customer. Besides, the adaptive digital portals leverage AI to constantly evolve the user experience with hyper-interactive and customized displays.
3. Comprehensive Outreach
Modern retailers have understood the need for advanced marketing systems and therefore the use of CRM systems has become quite evident in almost all retail practices. According to stats, around 82% of organizations use CRM for sales reporting. Around 82% of the companies surveyed in a recent report say they use their CRM systems for sales reporting and process automation.
And therefore, retailers aim at developing a thorough shopper profile based on the past preferences and behavior of the customer. The information is further processed to encourage outbound marketing through personalized content, rewards, and recommendations.
4. Highly Interactive Conversations
Another significant use of AI in retail could be observed in the AI-enabled chat programs that are
meant to encourage customer service and engagement. The process involves the use of bots and machine learning technology to answer the queries raised by the users on the digital portal (website or application). The AI technology here aims at learning the most common questions to build meaningful conversations that involve directing users towards relevant answers. Also, the bots feed upon valuable user data to improve business decisions and overall web experience.
5. Visual Curation
Retailers of the future are aiming to translate the algorithmic potential of Artificial Intelligence technology to redefine the shopping experience. The process involves using real-world browsing patterns and aiding users with advanced image-based searches. The impression of Visual creation could be tracked from retail giants like Walmart and Amazon that offer recommendations to the customers based on aesthetic and similarity to image data shared by a user.
6. Guided Search
Since most users end up their journey to make a purchase due to a lack of confidence in their decision, automated AI assistance allows users to make a choice. The technology works on reducing the options to the most relevant products that best fit the need and preferences of the user.
7. Conversational SupportThe
The AI-based conversation is a retail trend that has changed the idea of shopping entirely. NLP or Natural Language Processing helps shoppers to navigate through the shopping portals with ease by showing relevant information on their questions. Besides, the AI technology even redirects the conversations to a human expert when it is most required thus improving the customer experience with an all-round support. This even cuts the burden of expense on staffing since all the conversations are streamlined with the help of AI.
8. Customer-Data Insights
One of the most futuristic trends that are reshaping the retail shopping experience are intelligent retail spaces. These are specially designed stores that are installed with advanced in-store displays that work on biometric recognition of customer profiles. The system thus recognizes shoppers to fetch their loyalty accounts and customize the price, services, rewards, and promotions.
These stores use AI and other machine learning algorithms to track user behavior based on their shopping profile, demographics, and social media behavior. The information is therefore used to improve the service at stores as well as digital shopping portals.
9. Emotional Response
The next big thing that AI brings into retail is recognizing the emotional response of the consumer. The system aims at audio cues, biometric, and facial interpretations to identify shoppers' emotions or mindsets. The information is used to process users' reactions and take advantage of the data to offer product recommendations and support to the users.
10. Optimized Operations
AI-supported systems and IoT devices have come a long way in refining logistics and inventory operations. Besides, the retailers are finding the applications of IoT technology in improving the distribution and delivery operations to have a real-time check on the supply chain. The technology is helping retailers meet the quality expectations of the users while gaining on better access to internal operations and extending user support.
11. Research & Development
Deep learning algorithms have been put to use by retailers for collecting customer feedback and purchase information. The data is further used to create products and improve service patterns in order to meet customer preferences and market benchmarks.
12. Demand Forecasting
Since AI-based business intelligence tools are making their way into every industry, retailers use the technology to mine information related to market and competition. The analysis made allows for reshaping the marketing tactics, innovating merchandise, and upgrading the overall business strategy.
13. Customized Selections
Since the whole agenda behind bringing innovative technology to the retail sector is improving customer service, AI is and can be used to offer a personalized customer experience to the users. For instance, many businesses have started using IoT devices to interact with customers and offer complete shopping control to the customers.
AI In Retail: Why Is It Needed?
When it comes to the use cases of AI in retail, it is nothing limited to business intelligence and rapid sales. AI applications in the retail industry are all about driving successful businesses. As a retail platform assurance is a must to assure a great customer experience. Thus, the AI solutions that are built with an intelligent approach to niche evaluation, dedicated development, and sheer focus on quality assurance services have the most potential to set retailers apart.
As long as it is concerned with finding the much-needed reasons for driving AI into the retail industry, the most significant impressions could be developed in the context of digital transformation initiatives. The AI-powered solutions like automation, business intelligence, CRMs, ERP, IoT, and machine learning solutions offer everything required to captivate users and draw conversions.
Whether it comes to creating customer experience or driving insights from all the noise gathered through the disparate market and user data, AI allows synchronizing all the online retail operations with offline retail operations. A well-defined approach to AI in retail could therefore help cut all the inefficiencies related to logistics, supply chain, and deliveries to offer an adaptive shopping ecosystem to the consumers.
All in all, AI in retail only requires an effective understanding of the implementation process which is backed by an effective strategy. Besides, a thorough check on AI testing solutions could help with deployments that are no longer overwhelming but are rather more value-adding to the business.
Kanika Vatsyayan is vice-president, of delivery, and operations at BugRaptors, a certified Software Testing, and Quality Assurance company. She is a QA professional with a grip on several leadership positions such as test program planning, innovation, and process transformations. From quality control to test leadership, test practices, and assurance strategies, Vatsyayan is a seasoned expert with influential tech skills. Besides this, she has a knack for writing and therefore has published countless articles and blogs educating audiences across the software testing industry.