More than half of the world's population is present on social media. Any social media content you post on a social media platform has thus the potential to reach a vast audience. However, attracting attention online is not easy precisely because so many users generate stunning content daily. Standing out in this crowded landscape requires a great long-term strategy. 
Are you looking to promote your business or a passion project on social media? Do you want to build a personal brand and become an influencer?
1. Refine Your Design Skills
Writing long polished posts may seem like a great way to show your expertise in your niche and communicate with your audience. However, social media users have a clear preference for visual content. Platforms like Instagram, TikTok, and Facebook revolve around photos, videos, and graphics. The most effective way to gain people's attention is to give your ideas and insights a visual form. But what if you don't have design skills?
Creating visual content for social media has never been easier. You can create videos and images for your posts and Stories using free tools with rich libraries of animated designs. Go now and make your first animation to see how quick and easy the whole process is.
2. Learn as Much as Possible About Your Audience
The journey toward social media success starts with a question: who are your followers? Creating engaging content is impossible if you don't know your followers' interests, needs, and expectations. What demographic groups do your followers belong to? Gender, age, professional background, education level, hobbies, and lifestyle determine what content a person is inclined to consume. The more you know about your followers, the easier it is to adapt your message and voice to their expectations.
The best way to get to know more about your followers is to check the analytics page of each social channel. Additionally, you can use polls to ask your followers questions directly.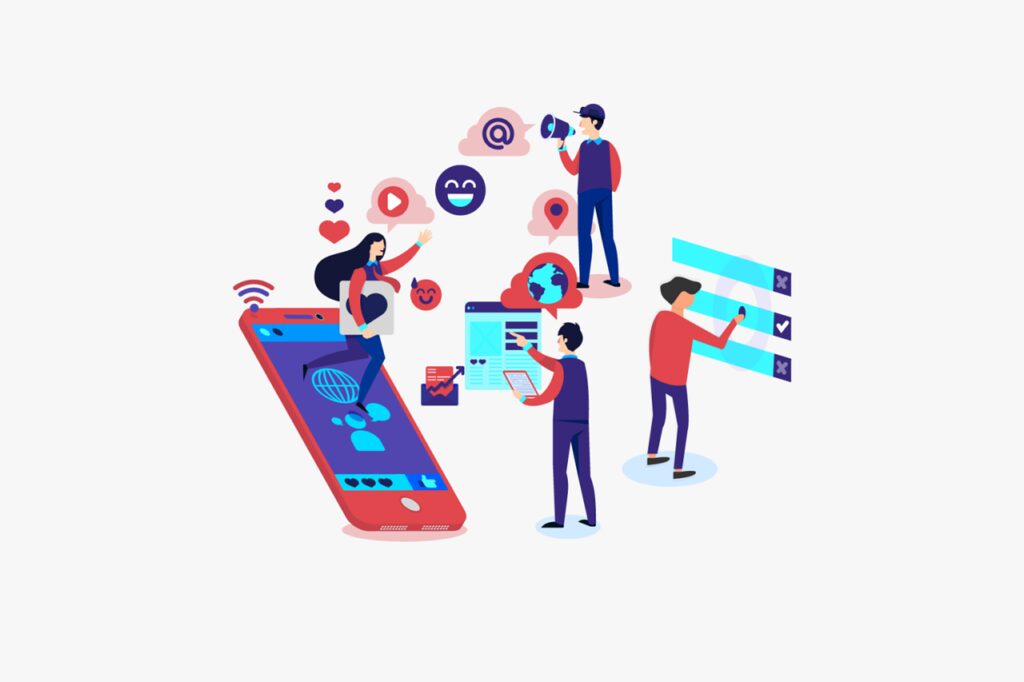 3. Offer a Mix of Information and Entertainment
Although almost all businesses use social media as a marketing tool, most people go on social media for funny memes, conversations with friends, and entertaining content in general. However, they also appreciate practical information and insights that can provide real value. Thus, the best way to get people's attention online is to offer a mix of information and entertainment.
Informative content such as facts, statistics, and news can attract more attention if the delivery format is eye-catching. Visual infographics are widely popular precisely for this reason. People are also more likely to share infographics than massive walls of text.
4. Join the Trends
An excellent way to stand out on social media is to include references to current trends in your posts. What are your followers most likely to be interested in at any given moment? Find inspiration by reading about world events, new media releases, celebrity news, holidays, or the latest scientific discoveries. This approach will help you create content valuable in the here and now.
Another great way to discover what people are interested in is to use Google Trends, which gives you access to the most popular keywords and hashtags. Reading newspapers and magazines online can also help you keep in touch with what your followers value.
If you choose to talk about popular topics to spark discussions on your social media pages, avoid controversial topics. Include facts in your posts rather than subjective opinions.
5. Diversify
Another important tip for creating engaging social media content is to surprise your followers with new formats. Your ideas can take many shapes and forms, so switching between formats is an excellent way to keep people interested. Find the formats that match your voice and alternate between professional photos, videos, audio clips, podcasts, memes, infographics, personal shots, and music segments.
Some social media users prefer video content. Others are more likely to listen to audio or stop the scroll to admire a beautiful photo. Thus, diversifying your content will also help you reach more people with different preferences.
Final Words
Social media is an excellent tool for people who want to promote their brands, build communities, explore their creativity, or communicate their passions and interests with the world. To find success on social media, make sure your content stands out. With so many tools and resources available for free, all you need is time and dedication. Design a workflow that works for you using dedicated tools that will save you time and energy.
We are a team of technical content writers who produce high-quality, engaging content for our tech audience. We know the latest trends and what matters to our readers, and we share that information in a way that's easy to understand.