Post pandemic years are going to be transformational for the hotel industry. Property managers are using new and innovative ways like Cloud Based Hotel PMS to manage their properties to increase revenues and add to guest satisfaction. 
Given the covid-related staff reduction in the hotel industry, it has become imperative for property managers to handle multiple properties at the same time. Using a cloud PMS is essential in such cases where several properties are under the control of one person who is looking after all aspects of the property. Whether it is inventory management, task assignment, housekeeping duties, or collecting reports, a cloud PMS is simply the most efficient way to manage all these activities in the best way possible. 
On the other end of the spectrum are small business owners that are managing multiple properties in different locations without actually being present there. When they use the best cloud based hotel PMS for their needs, they can keep an eye on all the properties and how they are performing. Whether it is a small rental property, a B&B, an AirBNB, or a hostel property, using a cloud PMS gives the property managers an additional edge over the competition. 
Here are some key advantages of using a cloud based hotel PMS.
Advantages of using Hotel PMS for Remote Property Management System
Highly affordable
Easy to manage multiple properties
Works with modern browsers
Works on multiple devices
Fast and real-time data updates
Easy to learn
Provides extensive reports
Keeps data secure in the cloud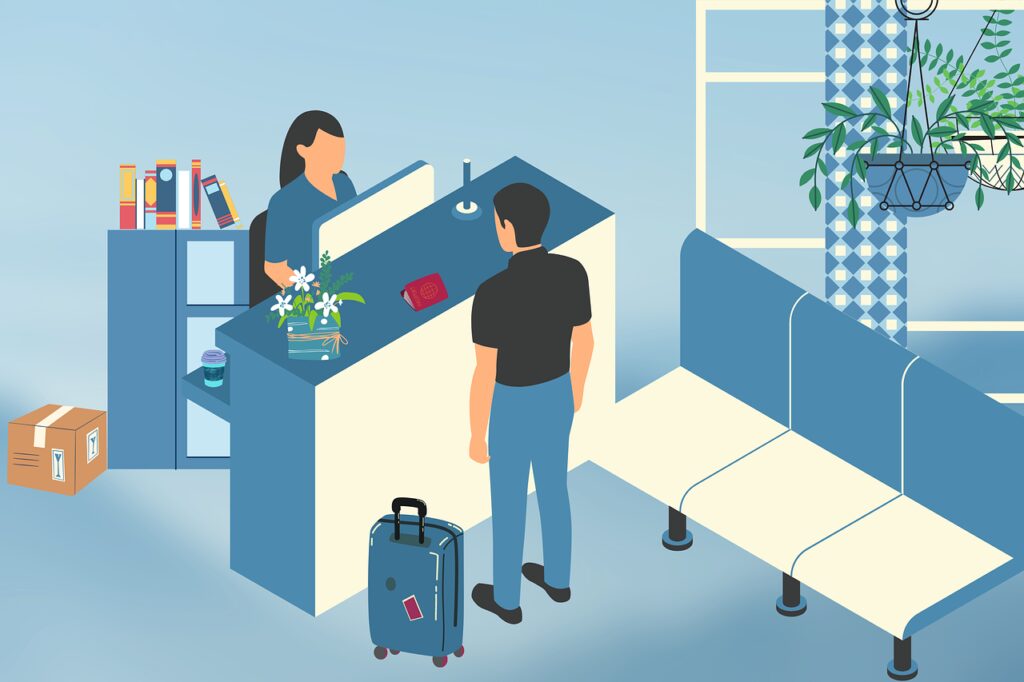 How can Property Managers use the Best Cloud Based Hotel PMS
Use an Online Booking Engine
An online booking engine can integrate with a cloud based property management system to give you better control over the bookings made by your guests. You don't have to be present on the phone or available via email as the booking engine takes care of the branding, payments, room rates, and more which gives you more free time to manage other aspects of the property. 
Mobile Friendly PMS
A property management system that can be accessed from a number of devices is the ideal way to keep track of all the information available. If you are on the go, it is easy to remotely access the data related to your property through your mobile device. 
Whether you want to look at booking trends, occupancy rates, room price trends, or any other information, everything is easily available through the unified dashboard. You can also manage the property by extending guests' stays, adding or removing rooms from the inventory, or modifying prices as you see fit.
Contactless Check-in and Check-out
In the post covid times, guests demand quick check-in and check-out with the least interaction with the staff. Through a remote setup enabled by a PMS, property managers can ensure guests can conduct their entry and exit to the property through a web app. Web apps are a great way to give guests access to the property and also allow them to use their mobile devices as their room keys.
Extensive Reporting
Reports are the lifeblood of any business. These become even more essential when you are managing a property remotely. As a manager, you need eyes on every activity that is happening on the property. 
Detailed reports about the performance of the property through different tourist seasons, occupancy rates, inventory management, expenses, earnings, and more can give property managers deep insights into the areas of the property that need improvement.
A Personalized Experience for Guests
In these hyper competitive times, giving guests a unique experience goes a long way. When you know about the demands and needs of the guests, you can make every subsequent stay of the guests a fantastic experience. 
By creating guest profiles in the PMS that highlight the guest preferences, their likes and dislikes about the stay, feedback, and special requests, you can personalize the guest experience for the future. When guests feel that the property managers understand their needs and take care of their requests, they are more likely to choose the property again and also recommend it to their friends and family members.
Payment Processing
Processing payments is a key feature of the PMS, and when you are managing a remote property, you need an overall solution to accept and process payments from the guests. Modern PMS can work efficiently with a number of third-party providers that can process payments for major banks with ease. 
Conclusion
Finding the best cloud based hotel PMS is the first step toward the successful management of a remote property or a number of properties. In conclusion, cloud-based hotel PMS can be extremely beneficial for remote property management. It allows managers to access and manage their properties from anywhere in the world, which can lead to increased efficiency and better guest experiences. If you are looking for a reliable and efficient hotel PMS system, then cloud-based software is the right choice for you.
We are a team of technical content writers who produce high-quality, engaging content for our tech audience. We know the latest trends and what matters to our readers, and we share that information in a way that's easy to understand.