We all know the importance of using a VPN. Whether it's to protect our privacy or to access content that's blocked in our country, a VPN is essential. But what if you're on a budget? In this article, we'll take a look at the 5 best free VPN Chrome Extensions.
What is a VPN and why use one?
A VPN is a private network that encrypts and tunnels Internet traffic through remote servers. A VPN essentially masks your IP address so that your online activity can't be tracked.
There are plenty of reasons to use a VPN. For one, it helps keep your online activity private. If you're worried about your ISP or the government tracking your online activity, a VPN can help.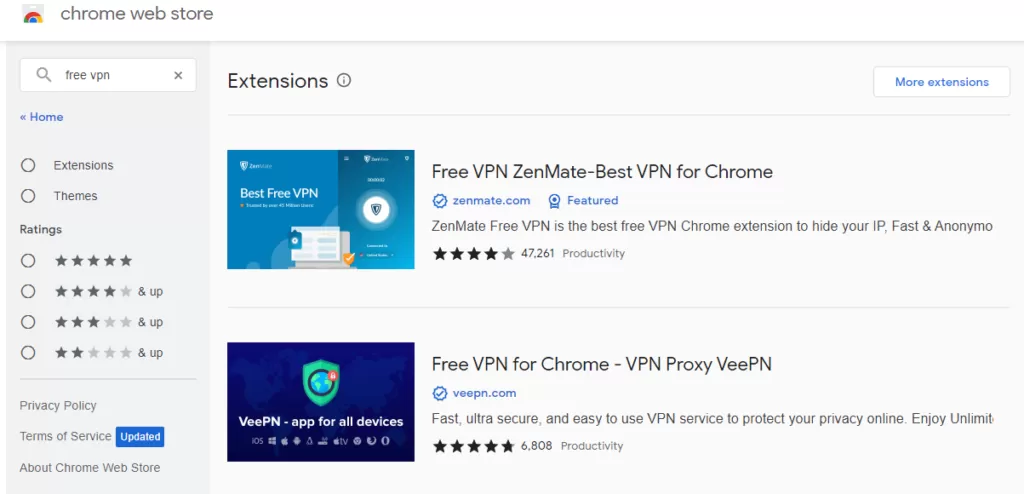 Additionally, a VPN can help improve your online security. By encrypting your traffic, a VPN can make it difficult for hackers to intercept your data. This is especially important if you're using public Wi-Fi networks.
Finally, a VPN can help you access blocked websites and content. If there's a website you can't access because of geo-restrictions, a VPN can help you get around those restrictions.
The 5 best free VPN extensions for Chrome
VPNs, or Virtual Private Networks, are a great way to browse the internet securely and privately. There are many paid VPN services available, but there are also some excellent free ones. Here are the 5 best free VPN extensions for Chrome.
1. TunnelBear
TunnelBear extension is incredibly easy to use and offers a generous 500MB of free data per month. It's perfect for light browsing and doesn't slow down your connection too much.
2. Windscribe
Windscribe gives you 10GB of data per month for free, making it one of the most generous VPNs around. It's also very easy to use and doesn't slow down your connection speed. There's a free version of the app, but to get it you have to sign up with your email address. The paid version is only $5 per month or $50 per year and works on most devices.
3. Hotspot Shield
Hotspot Shield offers a whopping 15GB of free data per month, making it one of the best options for heavy users. The free service is somewhat limited, but the Elite subscription offers full access to all of the company's servers. Hotspot Shield also includes a VPN Router app that can be used to protect all devices on your home network.
4. Betternet
If you're looking for a free VPN for Chrome, Betternet should be one of your go-tos. It's one of the simplest and most straightforward VPN extensions available, and it doesn't have any major limitations.
With Betternet, you can connect to a server in any of 22 different countries. That might not seem like many compared to some other VPNs, but it covers all the major bases. The speed is solid and stable, so you shouldn't have any issues with streaming or browsing.
Security-wise, Betternet uses 128-bit encryption, which is as good as it gets. And while there is no kill switch feature, the extension will block all internet traffic if the VPN connection drops for some reason.
5.ProtonVPN chrome extension
ProtonVPN's chrome extension is one of the best free VPNs on the market. It's easy to use and install, and it's one of the most secure VPNs out there. ProtonVPN's extension is also one of the fastest, so you won't have to worry about your connection speed slowing down.
How to set up a free VPN Chrome extension
A VPN, or Virtual Private Network, is a tool that helps to protect your privacy and security when you are online. VPN encrypts your data and sends it through a server in another country, making it more difficult for anyone to determine your true location or monitor your online activities.
Setting up a VPN extension in Chrome is a quick and easy way to add an extra layer of protection to your web browsing.
There are many different free VPN Chrome extensions, but we recommend TunnelBear or ExpressVPN. Both of these extensions are free to use and easy to set up.
The TunnelBear browser extension can be downloaded from the Chrome Web Store. After adding the extension to your browser, you will be prompted to register and log in.
Pros and cons of using a free VPN extension
A Virtual Private Network (VPN) is a great way to add security to your internet browsing, but it's not perfect. A free VPN extension for Google Chrome can be a great way to add an extra layer of protection, but there are some trade-offs that you should be aware of.
One potential downside of using a free VPN extension is that they are often supported by ads. This means that you may see more pop-ups and banner ads while using the VPN than you would without it. Additionally, free VPNs may not be as reliable as paid options, and they may not offer the same level of customer support.
On the plus side, free VPNs can be a good option if you're on a tight budget. They can also be a good way to try out a VPN service before committing to a paid subscription.
Conclusion
In conclusion, the 5 best free VPN extensions for Chrome are 1) TunnelBear; 2) Hotspot Shield; 3) Windscribe; 4) Betternet, and 5) ProtonVPN. All of these VPNs are great choices for anyone looking for a free and easy-to-use option to protect their online privacy.